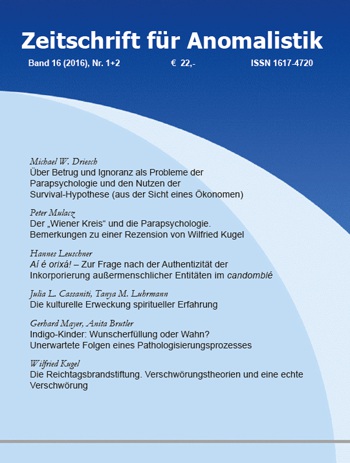 The Zeitschrift für Anomalistik (Journal for Anomalistics) is intended as a scientific forum for the advancement of controversial discussions about scientific anomalies, exceptional human experiences and so-called para-sciences. We publish empiricial research papers, general essays on methods and methodologies, conceptual aspects, philosophical issues, or essays examining anomalies from a history-of-science perspective. Also published are review articles, commentaries and discussion statements as well as book reviews. Leading research questions concerning scientific anomalies, exceptional human experiences and para-sciences deal with validity and explanatory models, with psychosocial backgrounds of correspondent belief systems as well as with social conditions of scientific progress induced by anomalies. Methodological pluralism, competing approaches concerning the philosophy of science as well as interdisciplinary approaches are welcome.
Most of the articles published in the Zeitschrift for Anomalistik are in German, but in some cases articles or commentaries may be published in English. All full papers are accompanied by english abstracts.
The Zeitschrift für Anomalistik is published triannually, with some issues combined to double issues or annuals. Singular issues comprise at least 80 pages, double issues at least 160 pages.